Ex-Dior Fashion Designer John Galliano Faces Prison in Paris After Trial for Racist Abuse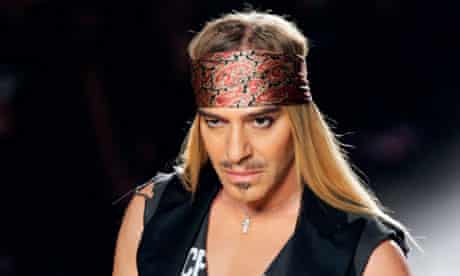 He was the acclaimed Dior designer known for his extravagant gowns and remarkable creativity but in June 2011 John Galliano found himself in court in Paris trying to avoid being jailed for racist abuse.
Galliano, 50,was witnessed while racially insulting peoplein a Paris cafe, La Perle,in February 2011. Dior executives felt they had no choice but to sack the designer.
Galliano's French lawyer, Aurelien Hamelle, said that the designer would appear in court to face charges rather than simply submitting a plea. Hamelle's client is charged with public insults based on origin, religious affiliation, race or ethnicity. The punishment for these crimes in France can beup to six months in prison and a fine of around $30000.
Galliano allegedly insulted complete strangers, Geraldine Bloch, a 35-year-old museum curator, and her partner Philippe Virgitti, 41.Bloch claims Galliano told her she had a "dirty Jewish face" and when Virgitti protested the designer told him he was "a dirty Asian" and probably not living in France legally. Police testing Galliano after the fracas found he was drunk.
In his defence Galliano was expected to claim that he had been seeking treatment for personal problems. His addictions to alcohol and anti-depressant drugs may help to keep him out ofprison.
When he was asked by gendarmes, French police, if he had been drinking before the incident, Galliano replied that he'd had "champagne at lunch and during the afternoon I had a glass of champagne while I did my shopping. I had dinner at a brasserie where I had some more champagne and finally I had a mojito at La Perle."
The trial will hear evidence that Galliano has previous form when it comes to racism. A video will be played in court that is said to show the fashion designer ranting at 2 Italian women, telling them that their forebears should have been "gassed". He is also alleged to say in the video that he loved Adolf Hitler.
Since being charged, Galliano has spent 2 months in rehab, at an Arizona rehabilitation centreThe Meadows.
Mr Hamelle said that at the time of the incident in La Perle, Galliano was under a lot of commercial pressure from Dior and had been abusing his sedative medication,Valium. Consequently, the defense will argue, he was acting out of character.
Ms Bloch's lawyer, meanwhile,claimed that Bloch is not after Galliano's money in compensation for the insults. She apparently wanted just 1 euro in symbolic damages and thecourt'sverdict on Galliano to be widely published. As well as being published in the French and international press,Bloch wanted to see the trial and verdict covered in fashion and beauty magazines like Vogue and Elle.
Ms Bloch, as an afterword, is not Jewish.